The LURE Guide To: The New Mumbai
FASHION PHOTOGRAPHER ROSHINI KUMAR GIVES US A VISUAL TOUR OF HER HOME, THE MODERN MUMBAI.
BY ROSHINI KUMAR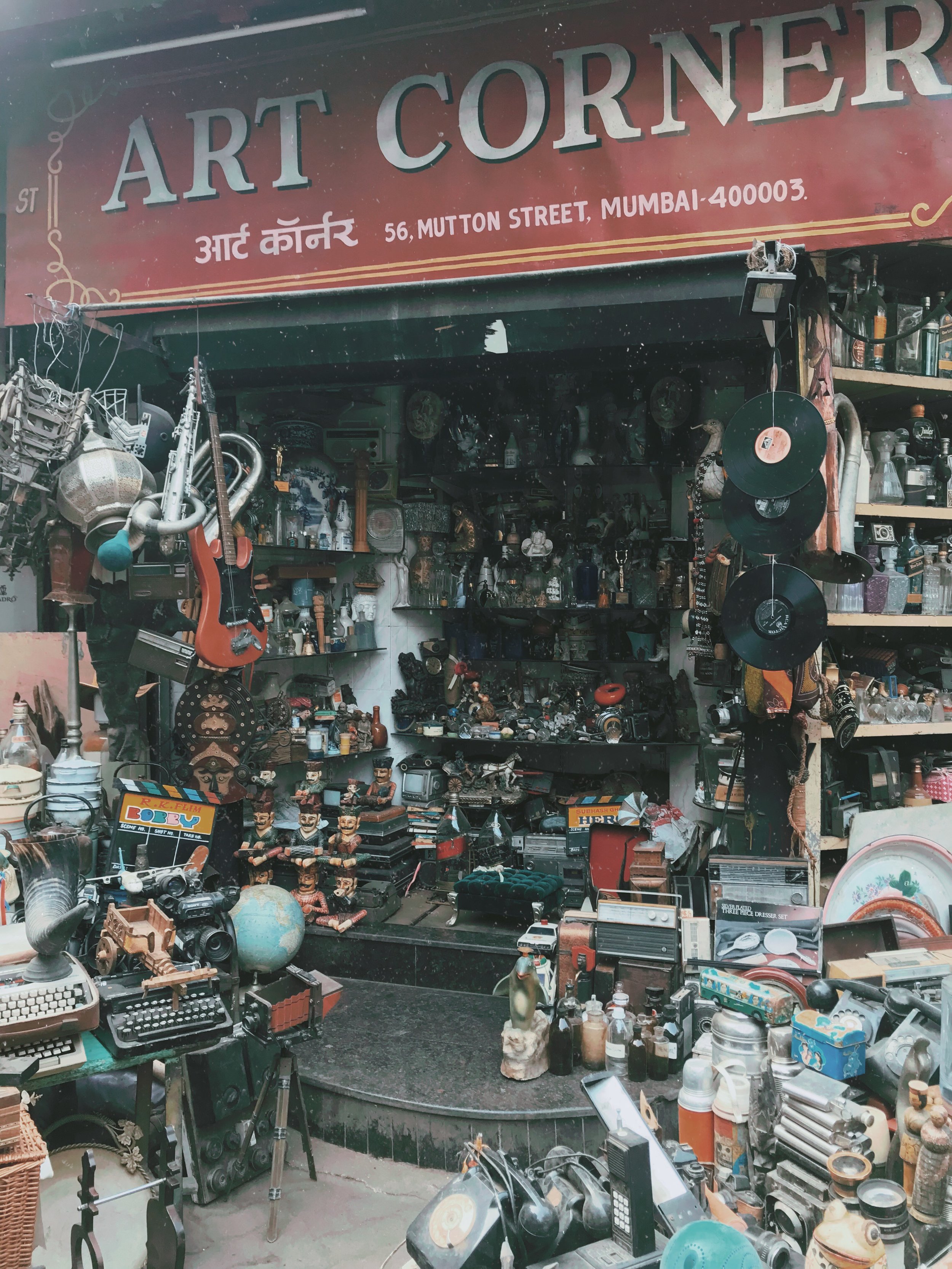 Chor Bazaar
Chor Bazaar literally translates to "Stolen Bazaar," and there is all kinds of stuff here, from antiques to furniture and frames. Cameras, furniture, prints, lighting, car parts – you name it, you can find it here. And a bit of haggling is okay, too. I often buy props for my photo shoots here.
It's a great place to find home decorations and make your home look like the pages of a catalogue magazine. My friend recently bought a few items for his home, including a working typewriter, and I was shook — everything was cheap and all these vintage wares added a very unique aesthetic.
I recently moved, and my idea is to pick up a bunch of old frames and decorate with them; either keeping the existing old photos inside of families and random people or putting in new ones.
Manish Market
This market is a collection of small stands selling defective, brand-name clothes. You'll find pieces from American and European labels like Zara, SHEIN, or H&M for really cheap prices. The defects are usually very small and unnoticeable, so there are lots of gems.
It's a full-on market with sections of accessories, clothes, Indian wares and even tailors so you can get stuff customized. I go there for most of my clothing now, as I don't follow seasonal trends and enjoy mixing shit up.
I prefer to shop here as opposed to malls. After traveling in Cambodia and Vietnam and learning about the disturbing realities of mass production, I don't shop fast fashion. At the market, I know where my money's going.
Rare Earth is a vegan restaurant and vegan store with alternatives for almost everything – a rare find in India, as there are still lots of taboos about veganism. People love their dairy products and think giving up butter chicken is a sin.
I've been vegan for a year now and don't regret it because there are increasingly more places to eat like this. The vegan pizzas and mock meat are fantastic. The café really proves going vegan isn't just eating grass!
Leaping Windows Café
This comic-book-themed café is a spot where Mumbai's young crowd comes to chill and work. It was one of the first places I visited when I moved here, and I was instantly attracted by all the artists and creatives, and all the cool books, paints, and so on.
They've got excellent craft beers – India's got a great craft beer scene – and a vegan menu. Some of the books are secondhand and cost just 50 rupees (€0.63). The energy is just great.
Cat Café Studio
Rescued, disabled and injured cats find a home at this café. I tried working here once and just got distracted by all the cats around me!
Mumbai has a big problem with stray cats, and this is a place that's truly making a difference. The rescues who live here can also be adopted. There's also a cat-free outdoor area and a small shop selling animal toys and games.
Jamjar
Jamjar is one of my favorite restaurants in Bombay. It's just a cool place to drink and chill with good food. It's meant to be like a diner; so the vibe is comfortable and cozy, yet quirky and colorful. The crowd is very diverse. I actually took my parents there and they loved it.
There are vegan and keto menus. My go-to order is the vegan pizza with the grandmother's cold coffee with chia seeds and almond milk. I literally order it the minute I sit down. My friends love the sangria and risotto.
Bombay Salad Co.
For a quick, light bite there's nothing better than Bombay Salad Bowl. You make your own salad and choose from a big list of fresh, organically grown ingredients. It's a huge place and the owner is really passionate. The salad bar is located in Bandra West, a trendy suburb of Mumbai with lots of stylish bars, cafés and restaurants.
Kitty Su
Kitty Su is a night club well-known for their parties, but my favorite are the drag nights. It's a place where all Indians – people inside or outside the LGBTQ+ family – can feel safe and be themselves.
There is a sense of freedom not to care what we're wearing that day, or maybe if we're showing too much skin. Me and my friends dress up and put on all the clothes we don't feel comfortable enough to wear in public. Even for a straight person to feel completely safe is quite hard here in public.
I go all-out with my outfits here, because that's something I need – to be able to express myself. It's just a lovely place for self-expression.
Bar Stock Exchange
At this bar, you've got to bid on your drinks. The prices can be super cheap or if you're unlucky really high that day, depending on the demand.
There are screens all over showing the prices. You can also download and watch by app. There's usually a nice crowd, and for my friends and me it's a chance to drink certain liquors we like which are unnecessarily expensive in other places.
There are all kinds of drinks and a decent food menu, so it's a good place to have a whole night sorted.
LaLiT Mumbai
LaLiT Mumbai's manager has been doing a lot for the LGBTQ+ family in India, particularly starting the drag nights at Kitty Su Bar. He has a foundation raising LGBTQ+ awareness, and it's very important considering it's quite hard in our country even now for people to understand what it's all about.
The LaLiT is a hotel where everyone is welcome. It's "a safe place, where we welcome everyone without any discrimination on the basis of age, background, race, physical abilities or ethnicity. Our message to the world is #PureLove and we celebrate and embrace diversity," reads the website.
The five-star luxury hotel has a contemporary feel, but lots of hints of traditional Indian aesthetic within the prints and furniture. Definitely a good recommendation for comfort and class in Bombay!
Roshini Kumar is a Mumbai-based photographer, art director, influencer and art activist. She uses her art to address social issues in Indian society, especially surrounding body and sex positivity and female empowerment. Follow her on Instagram @rosh93.
In LURE's Issue 11 "One in a Billion," we meet a new generation in India demanding the country celebrate all its diversity.
Check out more from Issue 11 below, including our original film "Young Bloods: Mumbai," as well as our Instagram for more exclusive content.